Posted by AllisonCrowe | Filed under Artist News, Canada, Europe, Live Music, Music, Uncategorized, blog, piano, video
"
Let It Be
" is our next "
Tidings
" song – captured live-off-the-floor at Turtle studios in White Rock, Canada. The Beatles' songbook is rich for interpreters and this gospel-inflected tune by John Lennon and Paul McCartney is one which Allison Crowe loves to perform and have people sing along.
Here's another "Let It Be" performance, recorded in the same studio as the Tidings version: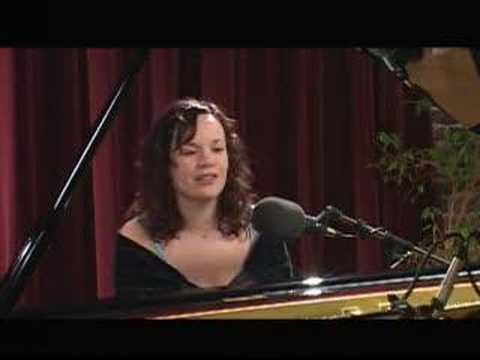 Tags: Allison Crowe, auteur, British Columbia, chanson, compositeur, compositrice, die kanadische, folk, guitar, indie, interprète, jazz, John Lennon, Larry Anschell, Let It Be, musique, muzik, Newfoundland, passion, Paul McCartney, percussion, piano, pop, rock, Secrets, singer, Singer-Songwriterin, songwriter, The Beatles, Tidings, YouTube
Posted by AllisonCrowe | Filed under Artist News, Canada, Music
"Cover Me" blog's Editor-in-Chief Ray Padgett, (SPIN, Consequence of Sound, Mashable and more), premieres Allison Crowe's take on Annie Lennox & Eurythmics' "Sweet Dreams" @ http://www.covermesongs.com/2010/11/allison-crowe-shows-us-what-sweet-dreams-are-made-of.html
In the accompanying article, "Allison Crowe Shows Us What 'Sweet Dreams' Are Made Of (Cover Me Premiere)", writer Eric Garneau says of Crowe's bare take on the song:"She delivers a reading on this '80s mainstay at once beautifully melodious and ferociously in-your-face."
Allison Crowe being a rock musician – well, what was called rock in the '60s – she really enjoys, but doesn't replicate, the sounds of the original's pop sensibility. She strips things to their emotional core.
1 Heck of a Guy, a blog renowned for its reportage on Leonard Cohen and broomcorn lore and much, much more, shines a light on Allison Crowe's "alchemy" in covering songs – http://1heckofaguy.com/2010/11/09/allison-crowe-renews-eurythmics-sweet-dreams – saying:
"Allison, whose covers include not only outstanding versions of Joni Mitchell's 'River' and 'A Case of You,' Leonard Cohen's 'Hallelujah,' 'The Beatles' 'In My Life' and 'Let It Be,' Lennon's 'Imagine,' and Cyndi Lauper's 'Time After Time,' but also the most provocative and seductive (forgive me, Aretha) take I've heard on Ronnie Shannon's 'I Never Loved A Man (The Way I Love You).' And, I stand by my conviction that Allison Crowe is the best thing to happen to 'Me And Bobby McGee' since Janis Joplin changed Kristofferson's lyrics."
This fun, naturally, arises from the premiere of Allison's take on Annie Lennox and Dave Stewart – The Eurythmics' "Sweet Dreams" on the "Cover Me" blog.
This music news has now spread to the MTV blog: "Allison Crowe Strips Down Eurythmics' 'Sweet Dreams' " – http://blog.mtvmusic.com/2010/11/09/allison-crowe-strips-down-eurythmics-sweet-dreams – and the site which has been serving 'Sweet Dreams' to devoted Eurythmics fans since 1999 – ethrillnet – http://ethrill.net/2010/11/09/listen-allison-crowe-covering-eurythmics-sweet-dreams
1 Heck of a Guy includes a link to this YouTube audio with pic:
When the makers of Hollywood movie "Sucker Punch" were looking for ideas on how to approach the song, they called on Allison Crowe. For the 2011 blockbuster from director Zack Snyder, actress Emily Browning performs the song as a production number that opens what promises to be an exciting, visceral, film ride.
Tags: 1 Heck of a Guy, 80s, Allison Crowe, Annie Lennox, Aretha Franklin, Beatles, broomcorn, chanson, Cover Me, Cyndi Lauper, Dave Stewart, Eric Garneau, Eurythmics, Hallelujah, I Never Loved a Man, Imagine, In My Life, indie, interprète, Janis Joplin, John Lennon, Joni Mitchell, Kris Kristofferson, Leonard Cohen, Let It Be, Me and Bobby McGee, MTV, Paul McCartney, River, Ronnie Shannon, Sweet Dreams, Time After Time, voice, YouTube