Posted by AllisonCrowe | Filed under Artist News, British Columbia, Canada, Concerts, Europe, Germany, Live Music, Movie, Music, Newfoundland, Photography, Tours, Uncategorized, blog, guitar, love, poetry, radio, remix, television, theatre, video, voice
Allison Crowe's bootleg video series continues here with a celebratory nod to this weekend's opening of "Newfoundland Vinyl" – the hit Theatre Newfoundland and Labrador production at the Gros Morne Theatre Festival (staged in Canada's beautiful Gros Morne National Park).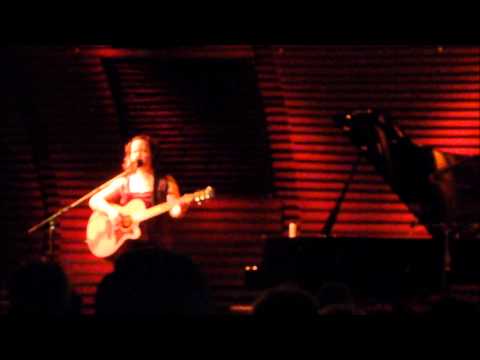 Allison Crowe enjoys curating and arranging the music – mining a treasure trove of tunes from the region – songs that cover a full range of genres and emotions. And when she tours the world Crowe carries the sounds of home to her international audience.
On this concert night at Jazzhaus Freiburg in Germany – she performs a song penned by Terry Skinner that's first recorded by Canadian country great Eddie Eastman (in 1979).
Allison Crowe recorded it for her album "Newfoundland Vinyl": http://music.allisoncrowe.com/track/easy (released, naturally, on vinyl LP).
On its release last year, Gery Deugaw, the super-dedicated cultural archivist behind "GEST Songs of Newfoundland and Labrador" @ http://www.wtv-zone.com/phyrst/audio/nfld – notes: "After all the years of travelling the Trans-Canada, Eddie Eastman was inducted into the Canadian Country Music Hall of Honour in 2010. Allison Crowe performs this song with the easy sound it needs to be successfully reprised in the 21st century."
Tags: acoustic, Adam Brake, Allison Crowe, Amelia Manuel, auteur, ballad, British Columbia, Canada, chanson, Claire Hewlett, Colin Furlong, country, Craig Haley, Eddie Eastman, festival, folk, Freiburg, Germany, Gery Deugaw, GEST, GMTF, Gros Morne, guitar, interprète, Jazzhaus, Jeff Pitcher, Keelan Purchase, live, Marquita Walsh, Music, Musica, musique, Newfoundland, Newfoundland Vinyl, passion, Stephanie Payne, theatre, TNL, vinyl