Posted by AllisonCrowe | Filed under Artist News, British Columbia, Canada, Concerts, Europe, Live Music, Movie, Music, Newfoundland, Photography, Remembrance, Tours, Uncategorized, blog, guitar, love, piano, poetry, remix, television, theatre, video, voice
Peter Buckle's documentary, "A Corner Brook Tidings" – a film featuring Allison Crowe and you, has its World Premiere this weekend. There's been a sighting of a man on a sleigh, pulled by what appear to be reindeer, or, maybe daschunds… on a snowy rooftop – just before this trailer appeared down the online chimney…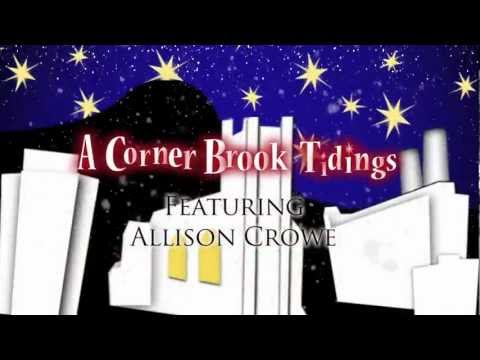 World Premiere of the Peter Buckle-directed documentary film ~ "A Corner Brook Tidings"
"A Corner Brook Tidings"
World Film Premiere
It's coming on "Tidings" – and that means the voice of Allison Crowe rings out traditional favourites, Christmas carols such as "It Came Upon a Midnight Clear", "In the Bleak Midwinter", and "The First Noel", alongside the modern canon of Joni Mitchell, Patty Griffin, Lennon & McCartney and original song selections including the elegiac "Arthur", and the epic, foot-stomping, "Disease".
Allison's just wrapped up her second engagement of this year with Canada's amazing Royal Winnipeg Ballet – performing songs of Leonard Cohen. With the love experienced on the dance stage, as well as recent European concert dates and this Summer's Gros Morne Theatre Festival hit, "Newfoundland Vinyl", still touching souls – it's time to rally a repertoire that decks us all in comfort and joy whatever life's circumstances. On Friday, December 14 in the ACC Theatre is this year's live "Tidings" concert.
Saturday, December 15, the lights go down in the ACC Lobby for 7 pm and 9 pm screenings of the Peter Buckle-directed documentary ~ "A Corner Brook Tidings" – "a film featuring Allison Crowe and you". (A live album, "Tidings Concert", has just been released on iTunes + as a sister project. http://allisoncrowe.com/news.html )
These audio and video works are created with gracious assistance of the Newfoundland and Labrador Arts Council – and kind shepherding by Katrina Rice, NLAC Program Officer. Assistance for the World Premiere showings is provided by the College of the North Atlantic in Corner Brook and the CNA's Recording Arts Program, Bay St. George Campus, Stephenville.
Here's a preview from Film Director and Producer Peter Buckle, (CNA Instructor – Film & Video Production):
" 'A Corner Brook Tidings' is a fusion of live musical performances, stories and spectacular home-grown scenes woven through a wondrous Christmas theme.
This documentary will take you on a very special journey around the exceptionally beautiful City of Corner Brook and juxtaposed with local family Christmas stories and, of course, thrilling and heart-warming music from the incomparably talented Allison Crowe.
Christmas is a time for friends, family and tradition. This documentary film is sure to bring you all the true Christmas sprit in a tightly wrapped package."
When: Saturday, December 15th, 2012
Two Screenings: 7pm and 9pm
Where: Arts and Culture Centre – Lobby – CB ACC, 11 University Drive, Corner Brook, NL A2H 6C3
Admission: Free – in the spirit of the season!
Premiere Film Passes available @:
Brewed West – 35 West Street – (709) 634-7100 ext. 2;
Brewed on Bernard – 93 Mt. Bernard Avenue, CB – (709) 634-7100 ext. 3;
Newfound Sushi – 117 Broadway, CB – (709) 634-6666; and
SkiWorld – George's Mountain Village, Steady Brook – (709) 639-8168
For more Info call Peter Buckle @ 709-639-4576 or email @ buckle_peter@yahoo.ca
http://music.allisoncrowe.com/album/tidings-concert
Music for the season and all time
Tags: Allison Crowe, auteur, British Columbia, Canada, chanson, community, compositeur, compositrice, concert, Corner Brook, Creative Commons, die kanadische, documentary, film, folk, guitar, indie, interprète, jazz, joy, Kanada, love, Musica, musique, muzik, Newfoundland, passion, peace, Peter Buckle, piano, pop, rock, singer, Singer-Songwriterin, songwriter, Tidings, voice, Winter